Bay Area home builder, Wm. H. Fry Construction Company, was honored with the 2013 PureBond® Quality Award from Columbia Forest Products, manufacturer of formaldehyde-free hardwood plywood. This is the second annual PureBond® Quality Awards competition and the second year that the company has received this award. The award-winning project, a luxurious bathroom in Woodside California, was selected among over 850 eligible members.
"As a custom homebuilder, I'm pleased that our in-house artisanal custom cabinetry garnered the attention of the judges who are leaders in the woodworking industry. Whether homeowners select cabinetry crafted in our small woodworking shop or custom cabinets purchased from our partners, our carpenters who install cabinets also know how to build them. That can make all the difference in creating a high-quality end-result. We recommend Columbia Forest Products because the soy-based adhesives in their PureBond® plywood exceeds the California Air Resources Board rule for formaldehyde in pressed wood products and promotes good indoor air quality; it's the natural choice for today's health-conscious homeowner." said Bill Fry, owner of Wm. H. Fry Construction Company.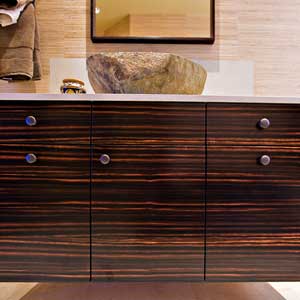 "The PureBond Quality Awards is a way for Columbia Forest Products to recognize the world-class work being produced by our PureBond Fabricator Network members," said Columbia Forest Products Director of Marketing Todd Vogelsinger. "We created a partnership of craftsmen who build quality custom woodwork for residential and commercial clients using our flagship PureBond brand of hardwood plywood. For the past several years, we've admired their work so much, that we thought a competition would be a great way to spotlight their accomplishments."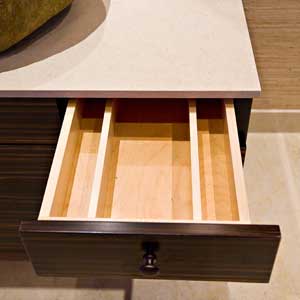 About the award-winning project: An elegant earthy guest bathroom features a floating vanity faced with a hardwood veneer that is horizontally matched all around from front to sides. The drawers have built-in dividers. As this is a remodeled home, the wall framing was changed to accommodate the two matching built-in towel niches with glass shelves. Earthy elements include stone flooring and baseboard; a Stone Forest natural boulder sink; Ann Sacks stone mosaic tile; brown bronze hardware and fixtures; and warm brown wall coverings by Larsen fabrics.


About Wm. H. Fry Construction Company: Bill Fry founded the company over 20 years ago to build custom homes and fine home remodeling projects in the San Francisco Bay Area. He started his career as a journeyman carpenter and foreman, building hillside homes at Portola Valley Ranch. The company builds projects from Hillsborough through Los Gatos. Learn more about indoor air quality and cabinets on this blog.
About PureBond Technology by Columbia Forest Products: Columbia's formaldehyde-free PureBond® technology was a major breakthrough in the engineered wood panel market. Developed by Columbia Forest Products in conjunction with scientists at Oregon State University, the first PureBond hardwood plywood panels were produced in 2005. Since then, more than 50 million have been shipped. Learn more about the Purebond Quality award winners.