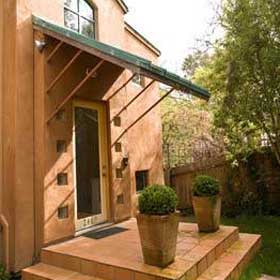 The Bay Area is home to at least three green tile manufacturers: Fireclay Tile (shown above), Heath Ceramics, and McIntyre Tile. You can find their eco-friendly tile products at a number of local tile shops. And when you purchase local products, you're being green too – a win-win! The image above with Saltillo tile, comes from this Menlo Park new home.
founded in 1986, has headquarters in San Jose and manufactures tile in nearby Aromas (along with tile sourced from elsewhere). According to their website: 'Fireclay Tile is the leading ceramic tile company using recycled materials and sustainable manufacturing practices. We make the highest quality, most durable and aesthetic hand-made ceramic materials using "old world" methods that are unique, affordable, and "green."' While the public can visit the showroom, retail tile can be purchased only from tile dealers. The company "boneyard," which is open to the public, sells seconds, overstock tile, and Saltillos/Mexican Pavers.
Fireclay is sold at these tile stores (visit website for more retailers): Artistic Tile and Stone, Da Vinci Marble.
founded in 1948, is located in Sausolito manufactures hand-glazed stoneware tile and other stoneware products such as dishes. Their mid-century aesthetic lends itself particularly well to Eichler home renovations. According to their website, Heath can contribute to LEED-NC credits. Their factory tours make for a fun outing.
Heath Ceramics tile is sold through through Ann Sacks showrooms.
founded in 1972, is located in Healdsburg designs and produces unique handmade artisan tile for residential and commercial applications. The Whole Foods Market in Cupertino, which is a green building, installed McIntyre tile. According to their website, "McIntyre Tile has been employing the most environmentally responsible manufacturing methods available… We consider recycling in three ways: first by formulating our clay bodies utilizing post-industrial waste materials that we purchase, second by processing internally produced scrap materials back into our clay bodies, and third by finding special markets for tiles that do not meet our exacting specifications."
McIntyre Tile is sold at these tile stores (visit website for more retailers): All Natural Stone, Artistic Tile and Stone, Walker Zanger.