Did you know that the cabinets you choose can affect indoor air quality (IAQ)? Most cabinets are made of engineered wood, such as hardwood plywood or Medium-density fiberboard (MDF) that is bound together with adhesives. The resin used in the adhesive typically contains urea-formaldehyde which is bad for your health. The EPA and WHO have classified formaldehyde as a "probable human carcinogen" and the State of California has classified formaldehyde as a toxic air contaminant (TAC) with no safe level of exposure. A number of other health ailments have also been associated with formaldehyde. Worse, today's airtight energy efficient buildings have exacerbated the problem and formaldehyde can take years to off gas.
The California Air Resources Board (CARB) has introduced a phased reduction for the maximum allowable amount of urea-formaldehyde in pressed wood products and the EPA has followed California's regulatory lead. The most stringent piece of this regulation takes effect in July 2012. While new standards are in effect for manufacturing, consumers might not benefit right away as CARB has allowed a grace period, which might be extended, for retailers with old stock containing higher levels of formaldehyde. The following table was copied from the regulatory text.

Fortunately, consumers can breathe even easier – there are pressed wood products available that exceed these standards and contain no added urea-formaldehyde (NAUF). One example is Columbia Forest Products PureBond® hardwood plywood which uses a proprietary non-toxic soy-based adhesive. And if you want to go greener, Columbia Forest products hardwood plywood can be specified using Forest Stewardship Council™ (FSC) Certified materials.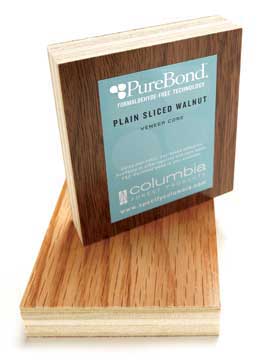 Columbia Forest Products has also featured the Wm. H. Fry Construction Company in their Profiles in Quality and one of our Bay Area kitchen remodels was featured in their 2012 Press Release announcing their PureBond® hardwood plywood website.