The kitchen pendant lighting above is in a home remodel in Saratoga, CA
Pendant lighting is an attractive way to add light to your kitchen island or kitchen bar area. While small pendant lights are typically installed in threes, larger pendant light fixtures are more often seen in pairs. Pendant lights can add a splash of color or can be neutral. Make sure that the height of your light is appropriate for your intended tasks and they're in an area where they're not likely to be bumped. One of my favorite places for inspiration is houzz.com; for example, here is the results of a search for "pendant kitchen island" http://www.houzz.com/pendant-kitchen-island.
Another consideration is that the current California Title 24 energy code requires that at least 50% of the total wattage of kitchen lighting must be from high efficacy lighting fixtures or luminaires (at least 40 lumens per watt). Non-high efficacy kitchen light fixtures must be switched separately from high efficacy luminaires. Here is a comparison between the 2005 Title 24 and the 2008 Title 24 lighting standards. An even more energy efficient California lighting standard is under development for 2013.
Your best bet is to get a designer on board to assist you in making an informed decision. Here are some examples from our portfolio of pendant lighting above kitchen islands and other kitchen counters: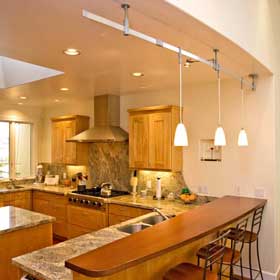 Pendant lights in Bay Area home remodel

Large pendant lights in Los Altos kitchen remodel