Bay Area home remodeling contractor and custom homebuilder Wm. H. Fry Construction Company was honored with Columbia Forest Products first PureBond® Quality Award at the International Woodworking Fair on August 22, 2012. A custom kitchen remodel in Cupertino California received second place in the Residential Kitchen & Bath category among over 850 PureBond® Fabricator Network eligible members. Columbia's formaldehyde-free PureBond® technology exceeds the California Air Resources Board (CARB) rule for formaldehyde in pressed wood products to promote good indoor air quality and is the natural choice for today's health-conscious homeowner.
The winning kitchen design features vertical grain veneer that is matched from the crown moulding to the cabinet base. A challenge for this gourmet kitchen design was to maximize usable space while retaining the original footprint. This was achieved through detailed planning and installing both custom and purchased storage solutions.
"The PureBond Quality Awards is a way for Columbia Forest Products to recognize the world-class work being produced by our PureBond Fabricator Network members," said Director of Marketing Todd Vogelsinger. "We've created a partnership of craftsmen who build quality custom woodwork for residential and commercial clients using our flagship PureBond brand of hardwood plywood." The criterion for the winners was simply demonstrating "quality" use of PureBond hardwood plywood.
The panel of PureBond Quality Awards judges included Dave Grulke, the Executive Director of the Cabinet Makers Association; William Sampson, editor of CabinetMaker+FDM Magazine; Eric Pfeiffer, an award-winning product designer and co-author of "Bent Ply: The Art of Plywood Furniture;" and Ana White, a designer who posts free furniture plans featuring simple designs, standard materials, and fresh modern styles.
Wm. H. Fry Construction Company
Columbia Forest Products
Award-Winning Kitchen on YouTube
The Contractor's Wife on the Award Process
This Bay Area high-end kitchen remodel was the first project I've ever submitted to get an award and I was thrilled that Bill Fry was recognized for his fine work at the International Woodworking Fair. I first got interested in awards when Bill's company was honored with an international award at the Pacific Coast Builders Conference in 2010 for Best Renovated or Restored House. The architect went through all the work of hiring a magazine-quality photographer, submitting the project as per requirements, and paying the fee – we found out about it at submission time. And our company name was on top because the award was issued by a builder's conference, not an architect's conference!
Then I did some research on awards. Most awards have steep requirements: great photos, a detailed submission in a binder, a fee, and a costly membership to a professional organization (such as ASID, NAHB, AIA, NKBA, NARI, etc…; for example, joining NARI costs $530 and applying for an award costs $160). I even took a free seminar on how to apply for awards and was overwhelmed by the cost in both time and money. I've also collaborated with a couple of publications for articles about Bill Fry, Green Build & Design and Palo Alto Weekly, to name a couple. The process is quite time consuming.
When I got an email on the Columbia Forest Products award and learned that it was free to participate and only required emailing photos along with 500 words in 3 paragraphs, I figured let's give it a whirl. I already had photographs of an interesting recent project. But we had plenty of other projects that I thought were better than the one we submitted. So my point is that when you see that a building professional has awards, they've not only done good work, but they've worked really hard on the process of getting those awards. You'll also find plenty of professionals who are content doing great work and their reward is the project, not the plaque. Anyway, now we have this cool plaque printed on Purebond Plywood, of course!!!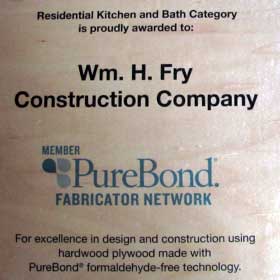 Here are the 3 paragraphs that I submitted for the award according to instructions:
A Woodworker's Custom Kitchen
The Wm. H. Fry Construction Company is a fine home remodeling and custom home building firm. Our own cabinetry shop evolved from a desire by one of our employee's to return to his roots in cabinetmaking along with a need to provide exceptional service to our discerning clientele. Our company began with Bill Fry, who started his career building hillside homes. Shortly after obtaining his general contractor's license, Bill met subcontractor Jim, a cabinetmaker. As Bill and Jim's complimentary skills promoted collaboration on more projects, Jim sold his shop and joined our company to manage finish work and render working drawings for cabinet fabrication by partner shops. To expedite smaller projects, Jim would build a vanity or a fireplace surround in a modest shop. His exacting standards led to increasingly complex projects and equipment purchases. The shop now includes a Delta Unisaw, Powermatic Shaper, Powermatic Jointer, JET Edge Sander, Festool Panel Saw, Quality Vakuum Products Veneer Press, and an Oneida Pro dust collector. Because we have a cabinet specialist on board from project inception, our projects are fully integrated with cabinet design. While we continue to work with partner shops, about half of our clients request our artisanal cabinetry.
As an example in December 2011, our client, a physicist by profession and hobbyist woodworker / gourmet chef wanted a new kitchen that enhanced his own quarter-sawn oak floor with a herringbone pattern and walnut border. Jim and our client selected sheets of Anigre veneer at Exotic Hardwoods & Veneers in Oakland, CA. The veneers on the finished cabinets match from top to bottom, including the crown moulding. Our client designed and fabricated the cabinet pulls and handles. Towel handles by the cooktop feature a stainless steel inlay to protect the wood. A major project challenge was to retain the existing footprint while making the best use of space to accommodate a 25-year collection of cookware. To that end, we:
•raised the ceiling to add space to the cabinets (and more light)
•maximized drawer widths while clearing cooktop knobs and cabinet pulls
•optimized cabinet access by dividing a cabinet door
•designed drawers and storage for specific uses
•purchased products such as Blum Blumotion drawer glides for full extension of drawers and Hafele hardware, such as a Lazy Susan, Magic Corner, and trash can pull out with foot pedal for accessibility
As a woodworker, our client wanted the best available plywood for his casework, which meant choosing Columbia Forest Products Hardwood Plywood (maple-faced for interiors). In addition, this project is located in Cupertino, a Tree City USA community; home to the largest Whole Foods store on the West Coast; and headquarters to technology giant Apple computer. In a culture that embraces the environment and elegant technological solutions, choosing Purebond plywood products by Columbia Forest Products, winner of an EPA green chemistry award, was a natural choice. Our client delights in the fact that his new kitchen exceeds every standard, including the stringent California Air Resources Board (CARB) formaldehyde limits, thanks to Purebond Technology.